Eddie Twiggs, head golf coach from 1932 until 1947, led Stanford to five national collegiate titles in his 15-year tenure. His teams won national championships in 1938 | 1939 | 1941 | 1942 | and in 1946. He is a member of the Stanford Hall of Fame.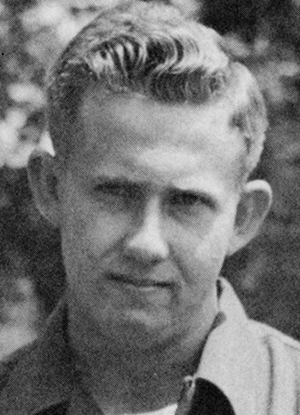 Beginning in 1938, Twiggs oversaw a five-year dynasty in which Stanford won four out of five collegiate titles. Stanford's victory at the 1938 national championship, held in Louisville, Kentucky, represented the first time a team west of the Mississippi won the title. It was also only the third time since 1897 that the National Championship was won by a team not in the Ivy League. When golf resumed at Stanford after World War II, Twiggs guided Stanford to another collegiate title in 1946. Coach Twiggs was revered by his celebrated players --- hear video interview comments from Sandy Tatum and Bob Rosburg (photo right).
Twiggs was an accomplished amateur golfer but was perhaps a surprising choice for Stanford's golf coach. Known as an impeccable dresser, Twiggs was a successful businessman who had a long career as a railroad representative. He was a prominent golfer at the Olympic Club in San Francisco, and during the 1920's was a fixture at notable amateur tournaments in Northern California. He also participated in the 1923 California Open which featured the professional golfers Gene Sarazen and Walter Hagen among others. Still, nearing 60, Twiggs had never coached when he replaced Garry Bennett as coach and head professional in 1932.
Twiggs coached an amazing array of outstanding collegiate golfers in his 15 years on the Farm.
These included Lawson Little (left photo) and Charlie Seaver in the early 1930's and went on to feature such Stanford Hall of Fame members as Don Edwards, Art Doering, Bud Finger, Warren Berl, Bud Brownell, Sandy Tatum, Bob Cardinal and Bob Rosburg. See photos below of his championship teams. Other significant contributors to Stanford's championship teams during Twiggs' tenure included John Wallace, Bill Boyd, Brown Cannon, Dick Wright, Dee Replogle, Frank McCann and George Traphagen. At the national collegiate tournaments, Warren Berl was the runner up for the individual title in 1939, as was Bud Brownell in 1941. Sandy Tatum won the individual national title in 1942.
In addition to five national collegiate titles, under Twiggs' guidance Stanford won seven Southern Division titles in the Pacific Coast Conference out of the nine tournaments it participated in (and came in second the other two times). Twiggs also directed the school to three Pacific Coast Intercollegiate Golf Association titles. In dual competitions, Twiggs' record was staggering. Against Cal, Stanford had 16 wins, four losses and one tie. Against USC, Stanford won six times, lost once and tied twice, and against UCLA, Stanford was undefeated, winning all nine times they played.
After the new Stanford Golf Course opened in 1930, Twiggs was one of three men to hold the original Stanford Golf Course record of 69, which he shared with Lawson Little and Malcolm MacNaughton until a new record was set in 1933. In 2004, Twiggs was elected to the Hall of Fame of the Golf Coaches Association of America, where he joined fellow coaches Bud Finger and Wally Godwin. There are two photos of Twiggs in the Stanford photo archive.