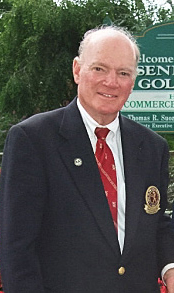 Steve Smith was a letter winner 1960 & 1961. He was a 1st team All-American in 1961 and the individual NCAA runner-up in 1960. He is a member of the Stanford Athletics Hall of Fame. Originally from Green Bay, Wisconsin, Steve received an Economics degree in 1960 and an MBA in 1967, both from Stanford. Thereafter Steve lived in New York working on Wall Street for almost 40 years.
In the 1960 NCAA championship, a Wisconsin journal of noted sports events reports as follows:
"June 23, 1960 - Unheralded Steve Smith, a product of Green Bay representing Stanford University, stuns Jack Nicklaus of Ohio State, 4-3, in the quarterfinals of the NCAA golf tournament, held in Colorado Springs. (In the finals, Smith led Dick Crawford of Houston, 6-up with 18 to go, but lost, 2-1.)"
Since 2004 he has been Executive Director of the Long Island Golf Association and Executive Director of the Long Island Caddie Scholarship Fund. He belonged to the Meadow Brook Golf Club for 25 years and is now a member of the Rockaway Hunting Club and the National Golf Links of America. In 2008 he reports that he carries a 3.5 index.
Editor's Note - In a continuing effort to accurately compile the remarkable history of the greats from Stanford's men's golf teams, we asked Steve a series of detailed questions and he was kind enough to respond to our request as follows:
"I had a good junior record winning some local events in Green Bay, Wisconsin, where I grew up. I was sectional low qualifier for two USGA Junior Championships and competed in 1955 at Taconic GC in Williamstown, MA and in 1956 at Purdue University GC in Lafayette, IN. I did not go far in either event.
I entered Stanford in the fall of 1956. At Stanford I played on the freshman team and was on the varsity for three of the next four years, but I was usually fighting for the fifth or sixth spot. Stanford had a good team while I was there, although we did not do all that well in the NCAAs. The better players included Ron Lucetti, Alf Bertelson, Bill Seanor, Kent Winton, Pete Choate, Wheeler Farish and Jim. By the way, Bill Seanor had a fantastic junior record in California and, I believe, either won or was runner-up in the USGA Junior before he came to Stanford.
I stayed out of school for a portion of my junior year and red shirted to keep my eligibility for a fifth year. In 1960, what would have been my senior year, I was playing in matches for Stanford, but usually as the 5th or 6th man. Coach Bud Finger decided to have a 72-hole play-off to see who would be the fifth man to travel to Colorado Springs to play in the NCAA. Since he was having a play-off anyway, he threw everybody in, including some guys who had no chance. It came down to the last four holes between Phil Underwood and me. I beat Phil and was the fifth man to go to Colorado Springs.
On the way we stopped in Denver and watched the US Open. I believe we were there for the first or second day. Some of us watched Palmer, Nicklaus, Tommy Bolt, hoping for a tantrum, and Ben Hogan, competing in one of his last Open Championships.
My game was pretty honed after that 72-hole play-off and I won my first two matches in each shooting around par (the NCAA individual championship was a match play competition with a 64-player draw). My toughest match was in the second round. I can't remember my opponent's name, but I do remember making a lot of crucial putts to win the match.
In round three, I had the privilege of playing against Jack Nicklaus (photo at left is 1960 Sports Illustrated cover photo). By the way, he finished second at Cherry Hills the week before and was the reigning US Amateur Champion. To make a long story short, I had good luck, birdieing four holes on the front nine including a chip-in on #2, a shot from under a tree to 12" on #5, and birdie putts of 30' and 40' on #6 and #8, respectively.

Despite that I was only one-up teeing-off on nine. With the fairway sloping sharply from left to right, the best tee shot was one that landed in the left rough, the only risk being a small bush about eight feet in diameter. Jack nailed the bush for an unplayable lie. As a result I turned three up.

The turning point in the match was on #13 where I hit a seven iron short and Jack had a flip wedge up to the smallish back section of the green where the pin was set. He left it short in the bunker, and recovered to 8 feet. My chip went 17 feet past the hole. I made and he missed! I finished the match on the 15th hole. I can still remember seeing both Jack and his dad eyeing me from across the green, hands on their hips, trying to figure out how he lost to this nobody.

I won my next three matches to get to the finals ( the semis and finals were each played over 36 holes). My opponent was Dick Crawford, the defending national champion. By the way, Dick also had to play in a play-off to get to Colorado Springs, despite being the defending champion. Dave Williams (Houston's golf coach) was a tough guy! In the finals I shot around par in the morning 18 holes and was 6-up.

My head was elsewhere in the final 18 holes and I lost 2-up on the 18th hole. Great story has a sad ending! I obviously had him and let it fritter away. The turning point was the 14th hole. I don't know how the match stood, but I was still up. He putted first. His caddie was frozen holding the pin and Crawford screamed at him to pull the pin out. Just as the kid pulled the pin out Crawford's ball hit the back of the hole, bounced into the air, and fell back in the hole. I can still feel the pain from that one. On 17 we had fairly equal 6 foot putts for birdie, measured, and he putted first. He made the putt and I missed to go 1-down. End of story.

As a result of this showing in the NCAA, I made first team All-American in 1961. In 1961, I had another good run in the NCAA at Purdue University. I beat some good players and got to the 36-hole semi-finals. Among my victims were Jack Rule and Jim Wright, both big names at the time, with the latter going on to bigger things. I played Mike Podolski, a classmate of Jack Nicklaus at Ohio State, in the semis. Jack, along with a few others, witnessed our 36th hole.

We had equi-distant birdie putts, but mine was trickier coming from above the hole. I three-putted to lose. Bud Finger's son was sadder than me. Perhaps I was lucky. Nicklaus beat Podolski 10-8 in the finals. I suspect he would have done the same to me, given the added incentive.

In retrospect I played my best golf when I was in my teens and early twenties. I won the Wisconsin Amateur Championship the same year I beat Jack, 1960. Later I qualified for three US Amateurs, 1975, 1978 and 1981. I wish I had tried to qualify for the US Amateur when I was at Stanford, but it usually conflicted with something.

Right after Stanford I went into the Air Force, and then to business school. I did finish fourth in the All-Air Force tournament in 1962 and 11th in the Inter-Service. Orville Moody won the Inter-Service that year. It was at Westover Air Force Base in Springfield, MA.

I also played in three British Amateurs, two at St. Andrews and one at Troon. The second time at St. Andrews, I got to the round of 64, losing on the first extra hole to a Scotsman. My golf career in the New York area has been undistinguished. I won some member-guests and came close in a few other things, but I can't claim any major championships. As a senior player I have struggled, and I never have qualified for a USGA Senior Amateur, a sad omission from my resume.

I have been Executive Director of the Long Island Golf Association since 2004 after an almost 30-year career on Wall Street as an institutional salesman for various firms. I spent my last 18 years with Donaldson, Lufkin & Jenrette, Inc.

As Executive Director of the LIGA, I am responsible for a golf event schedule of about 16 events a year including our Open Championship, several low handicap amateur tournaments and the usual array of other tournaments serving other demographic groups. I am also the Executive Director of the Long Island Caddie Scholarship Fund, which is a 501c3 charitable organization.

I still play golf, my handicap is 5.6 up from 2.6 at one point last year, but I don't play a lot of competition anymore. I belong to The Rockaway Hunting Club and National Golf Links of America, both Long Island clubs.

Well, perhaps this will help flesh out my story."

Regards, Steve Smith
Stanford Class of 1960