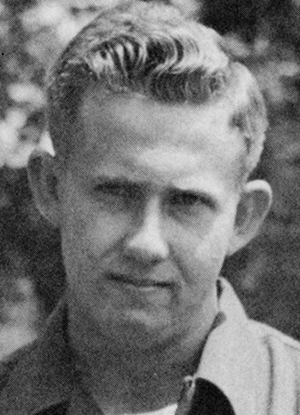 Bob Rosburg. Letter winner 1946, 1947, 1948. Member of the 1946 national championship team and a member of the Stanford Hall of Fame. A video interview with Bob Rosburg at age 81 is available below.
Robert Reginald Rosburg, a member of the 1946 National Championship team, was an outstanding golfer and baseball player at Stanford. After leaving Stanford and turning professional in 1953, he became one of the most consistent golfers during his twenty year professional career. When he retired as a active player, Rosburg became a widely acclaimed golf commentator for ABC television.
Rosburg was born in San Francisco on October 21, 1926. An accomplished golfer at an early age, Rosburg frequently played at such famed courses as Cypress Point and the Olympic Club. While playing as a junior at Olympic, Rosburg defeated the legendary baseball great Ty Cobb 7 and 6 in the first flight of the 1938 club championship. Although Rosburg remembers that Cobb, a fierce competitor, shook his hand and was polite in defeat, Cobb was seldom seen at the Olympic Club thereafter.
Together with teammates Frank McCann, Jack Shuler and Bob Cardinal, Rosburg was a member of Stanford's fifth national championship team in 1946. In addition to golf, Rosburg was also an excellent infielder on the Stanford baseball team. Rosburg graduated from Stanford in 1949, and after trying his hand at various jobs, he turned to professional golf in 1953.
He was one of the most consistent top 10 finishers during a professional career that lasted from 1953 until 1974. He won ten professional titles, including six PGA tour wins. He won the PGA Championship in 1959, coming from eight shots back in the last round for a victory he described as his most memorable in golf. He finished second at the U.S. Open in 1959, losing to Billy Casper by one stroke, and he tied for second at the 1969 U.S. Open. He also tied for third at the 1971 U.S. Open and twice tied for fifth (1955 and 1958). Rosburg won the Bing Crosby National Pro-Am in 1961.
Rosburg won the Vardon Trophy for the lowest average score in 1958. He was a member of the 1959 Ryder Cup team, where he went 2-0 for the United States. He also hit the first ball for the U.S. side, another experience he has described as among his most memorable in golf. The putter was his favorite club, and has stated that "without the putter, I could have never made it."
After retiring from active competition, Rosburg became a widely respected announcer for ABC television. His television career spanned more than 30 years, and he won acclaim as roving announcer and one of the great storytellers in golf. Rosburg currently lives in Rancho Mirage, California.