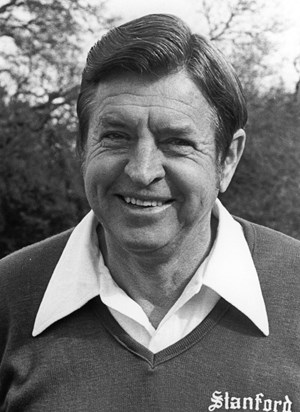 Charles (Bud) Finger. Letter winner 1939, 1940, 1941. Member of 1939 and 1941 national championship teams. Member of the Stanford Hall of Fame. Head coach from 1948 through 1976, in 27 years of NCAA competition his teams finished in the top ten 16 times and in the top twenty 23 times. His teams won the NCAA championship in 1953, finished second in 1957 and third in both 1950 and 1959.
He was a member of the 1939 and 1941 national championship teams. His teammates on the 1941 national championship winner included fellow Hall of Famers Bud Brownell and Warren Berl. In 1952 his 64 set the professional course record at Stanford GC.
He later coached Tom Watson, Bob Rosburg, Grant Spaeth and John Brodie among many great players at Stanford. As coach, he led the Stanford to 12 conference championships3. In his final year of coaching, a backgrounder on Coach Finger is included below.