Arthur L. Doering was an accomplished amateur golfer who later played professional golf and was head professional at the Yolo Flyers Club.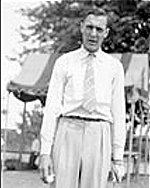 Doering, originally from Chicago, was a golf letter winner in 1938. Doering was a member of Stanford's 1938 National Collegiate Championship team, the first national collegiate golf championship won by a West Coast team. He was a key player on the 1937-38 team, which went undefeated in Pacific coast intercollegiate play (beating Cal, UCLA and USC).
While a student at Stanford, Doering competed in numerous amateur events and won the 1938 Chicago District Golf Association Amateur Championship, the oldest amateur competition in the Midwest. He also played in the 1938 U.S. Open Championship, where he tied for 41st and was the highest placing amateur. In 1939, Doering won the Santa Clara County Championship and was a semifinalist in the U.S. Amateur, losing to the eventual winner Marvin ("Bud") Ward.
In addition to the 1938 U.S. Open, Doering played in four other Major tournaments, U.S. Opens in 1947 and 1953 and the Masters in 1940 and 1941. Doering turned professional in 1945, and won the 1951 Greater Greensboro Open. In the 1960s, Doering was the president and head professional at the Yolo Flyers Club in Woodland, California, which is a well regarded country club in Northern California despite is unusual name. He is a member of the Stanford Athletic Hall of Fame.
Researched and written by Rich Peers, Stanford Golf Club member.