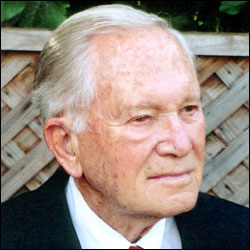 William Donlon Edwards was an accomplished amateur golfer who achieved his greatest fame from his long and distinguished career as a member of the U.S. House of Representatives.
Edwards was born in San Jose, California on January 6, 1915. He attended public school in San Jose, graduating from the San Jose High Academy before entering Stanford in 1932. He was a golf letter winner in 1933 and 1934, playing in those years with Lawson Little and Charlie Seaver. Edwards won the medal play for freshman at the California Intercollegiate Golf Championship sponsored by the Del Monte Lodge in 1933, when Lawson Little won the overall match play championship. In addition, he was a leader of the freshman team that defeated the Cal freshmen 25 to 2.
Edwards was a finalist in the California State Amateur championship in 1934. He lost 1-up to Stuart Hawley, [a member of the 1931 Stanford team]. Edwards won the Santa Clara County Championship in 1935 and 1936 (a title later held by Art Doering, class of '40). During the 1935-36 season, Edwards also took first at the Blossom Festival Medal Tournament and the San Jose Country Club Championship. The 1936 Quad described Edwards as proving, "during his four years of play, [to be] one of Stanford's finest players." Edwards also won the Northern California Golf Association Amateur title in 1937 at Lake Merced Country Club.
After his undergraduate years at Stanford, Edwards attended Stanford Law School. After being admitted to the bar in 1940. he worked for the FBI as a special agent in 1940-41. Later, he served in the Navy during the Second World War as a naval intelligence officer. In 1950 he won the AT & T/Crosby as the amateur partner of a pro.
From 1951 until 1975, Edwards was president of Valley Title Company, a title insurance company based in Santa Clara County. In 1962, he was elected to the House of Representatives, and he served in Congress from 1963 until 1995. He served on the House Judiciary Committee and was the chairman of the House Subcommittee on Civil Liberties and Civil Rights for 23 years. In announcing Edwards as the recipient of the Thurgood Marshall Award for 2002, the American Bar Association's Individual Rights and Responsibilities Section noted that it is rare and heroic to find ... "the public leader who, following conscience and principle, actually leads in a direction contrary to prevailing winds. One of those rare leaders is ..." Don Edwards.
Village Voice article, "The Soldier of the Constitution". A national wildlife refuge is named in honor of Don Edwards, the Don Edwards San Francisco National Wildlife Refuge.
Written by Rich Peers, Nov 2007.