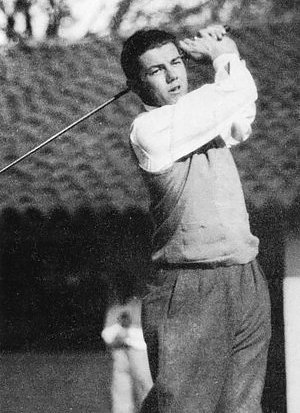 William Lawson Little, Jr., is considered by many to be the best American amateur during the period between Bobby Jones and Tiger Woods. He was also one of the greatest match-play golfers of all time. He swept the U.S. and British Amateur Championships back to back in 1934 and 1935, winning 32 consecutive matches in the two events. His "Little Slam," (described in this 1935 Time article) as Lawson's contemporaries referred to it, is still considered one of the great examples of sustained brilliance in golf. Only three others (one was Jones) have held both amateur titles simultaneously, and no other golfer has won both Championships in consecutive years.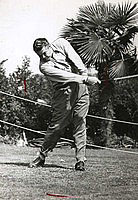 Little was born in Newport, Rhode Island in June 1910. He emerged on the golfing scene at the 1929 U.S. Amateur at Pebble Beach, where he defeated Johnny Goodman the day after Goodman defeated Bobby Jones. By the time he arrived at Stanford in 1930, Lawson was already an accomplished competitor; among his eight amateur titles are the 1928 and 1930 Northern California Amateur. Lawson majored in Economics at Stanford and belonged to the Chi Phi fraternity. A teammate of Charlie Seaver, he was a letter winner in 1933 and 1934. Time Magazine described Lawson as "a burly 23-year old Stanford junior" when he won the 1934 British Amateur. He did not lose a single hole in the final match, defeating James Wallace 14 and 13. In addition to the British and U.S. Amateur titles, while at Stanford Little won the 1932 Broadmoor Invitational and the 1933 Colorado Closed Amateur.
Little was a member of the 1934 American Walker Cup team. The competition was held at St. Andrews, where Lawson won both his matches. He qualified for the Walker Cup by reaching the semi-finals of the 1933 U.S. Amateur. After the Walker Cup, the U.S. contingent stayed over to compete in the British Amateur at Prestwick, leading to the first of Little's two British Amateur titles. He then returned to America and at The Country Club in Brookline won the first of his two U.S. Amateur titles. Only 12 other golfers have won both the U.S. and British Amateur titles.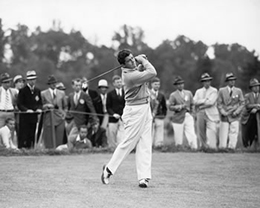 Lawson left Stanford in the fall of 1935. He turned professional in April 1936, and was among the first professionals to earn substantial endorsements. He won eight professional titles, including the 1940 U.S. Open in a playoff over Gene Sarazen. He tied for 3rd in the 1939 Masters (photo at left). He is one of only 11 golfers to win both the U.S. Amateur and U.S. Open, placing him among such greats as Bobby Jones, Arnold Palmer, Jack Nicklaus and Tiger Woods.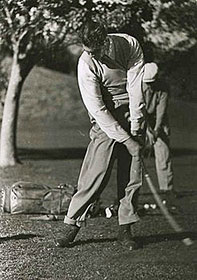 His other professional victories included the 1936 Canadian Open, the 1940 Los Angeles Open and the 1941 Texas Open. Only when compared with the brilliance of Little's amateur career can his professional career be considered disappointing. While described as bullnecked and barrel chested (Little was 5'9" but weighed 200 pounds), he was a thoughtful and sometimes brooding golfer.

He once said "It is impossible to outplay an opponent you cannot out-think." He had a fine short game to complement his long drives, and was known to carry as many as seven wedges. He also carried as many as 26 total clubs, and the 14 club limit adopted by the USGA in 1938 is generally attributed to the practice of certain golfers, most notably Little, of carrying a large number of clubs.

Little died in Monterey, California in February 1968. He is a charter member of the Stanford Athletic Hall of Fame and he was elected to the World Golf Hall of Fame in 1980. Written by Rich Peers, Stanford member, Oct 2007.