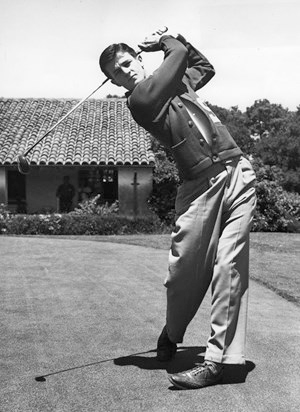 Frank (Sandy Tatum). Letter winner 1940, 1941, 1942. He played on the 1941 & 1942 national championship teams. Individual NCAA champion, played at South Bend, IN in 1942 winning 5 & 4 in the finals -- Sandy called winning a mystical experience for him and his finest competitive event. He was also conference champion 1942. Member of the Stanford Hall of Fame. Former USGA President. After receiving a law degree from Stanford in 1950 he eventually became a partner with the prominent Silicon Valley law firm of Cooley, Godward Kronish. | Wikipedia biography.
When inducted into the Northern California Golf Association Hall of Fame in February 2011, the NCGA wrote the following tribute: "The rich golf legacy of Frank "Sandy" Tatum is crystalized by his now-famous defense of the punishing setup of Winged Foot for the 1974 U.S. Open. When he said, "Our objective is not to humiliate the best players in the world. It's to identify them," Tatum spoke with the passion, eloquence, clarity and vision of a man who regarded golf as more than just a sport. To him, it veered close to a spiritual experience, and he attached that kind of love to every golf endeavor, whether it was striking a 5-iron to a tightly-guarded green or serving as the president of the United States Golf Association from 1978 to 1980.
Tatum, raised in Los Angeles on the fairways of Wilshire and Bel Air country clubs, became a Stanford man, a Phi Beta Kappa graduate and a Rhodes scholar at Oxford. Raised by a father who took the game seriously, Tatum could golf his ball. He was a member of Stanford's back-to-back NCAA golf championships in 1941 and '42, and during the latter year he also captured the individual title. For that, he is a member of the Stanford Athletic Hall of Fame. Sandy also was the first American to play golf for Oxford, where he was conditioned to understand that playing in bad weather was a fundamental part of the game.
From there, the longtime attorney dedicated his life to the betterment of golf. Few men, with the possible exception of Bobby Jones and Bill Campbell, have done more for amateur golf than Tatum. His accomplishments ring like churchbells over the decades. From his service on the USGA executive committee during the 1970s, to his bringing his beloved Pebble Beach onto the U.S. Open rotation, to his collaboration with Tom Watson and Robert Trent Jones Jr. in the creation of Spanish Bay in 1987, and to his tireless push toward the restoration of Harding Park in San Francisco, Sandy has attacked each project with the energy of a teenager.
Even at 90 years old, he remained one of golf's most influential purists. His life, like that signature pause at the top of his swing, has been unforgettable. More than 36 years after his memorable words at Winged Foot, we identify Frank "Sandy" Tatum as an inductee to the Northern California Golf Association Hall of Fame."
The great Sandy Tatum passed on June 23, 2017 at the age of 96. Mark Soltau shared an article about Mr. Tatum that first appeared on GoStanford.com on July 7, 2014 --- https://gostanford.com/news/2017/6/23/mens-golf-a-love-affair-with-golf.aspx.