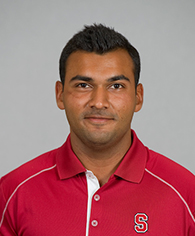 The men's course record from the Cardinal Tees is a 59 by Viraat Badhwar (left photo) on 10/12/14. Previous records were 61 by All-American David Chung '12 and former Stanford All-American Rob Grube '08.
Shortly after the new Stanford Golf Course opened in 1930, Stanford golf team member, Malcolm MacNaughton, who became a charter member of the Stanford Athletics Hall of Fame, set the original Stanford Golf Course record of 69, which he shared with fellow Hall of Famers Lawson Little and Coach Eddie Twiggs, until a new record was set in 1933.
Hall of Famer Bud Brownell, a member of the 1941 and 1942 national championship teams, shot a 63 at Stanford, setting a course record that he held for more than 60 years.
The Stanford women's course record of 61 (see her official scorecard below) was set in February 2013 by a freshman on the women's golf team, All-American Mariah Stackhouse, who has played on the LPGA tour since graduating. Mariah's record round was shot on the final day of the Peg Barnard Invitational which she won. This Stanford Daily article chronicles her round.
Mariah's shot an incredible 9 under par 26 on the front nine and a 1 under par 35 on the back nine. Her front-nine 26 was a stroke lower than the best 9-hole score ever recorded on the PGA Tour and three strokes better than anything done on the LPGA Tour at the time.
The collegiate 54 hole tournament course record is held by All-American and PGA Tour member Patrick Rodgers '14, who shot a 14 under par 196 total on rounds of 64-69-63 in the 2014 Goodwin event --- see his scorecards below.