12/13/07 - John Beers recalls his first two years on the team:
In response to the invitation in Conrad's email, I am writing about some very fond memories of my time on the golf team in the early 1970's.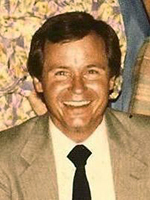 Back in those days, we played in far fewer tournaments than the team does currently. Our season did not even begin until January or February. The season consisted of numerous dual matches, plus three tournaments, and then the Pac 8 Championship, and finally the NCAA Championship, if invited. The 72 hole Pac 8 Championship consisted of 36 holes a day, on back to back days. There was no such thing as All Conference teams nor All Academic teams.
Each dual match was played against one other team, which usually was another school, but sometimes would be a club team of some kind. Each of the two teams would be represented by six players. A dual match consisted of six individual medal play matches (2 points for the front, 2 for the back, 2 for the 18), plus a medal play best ball match (same 2-2-2 scoring) in each of the three foursomes. The team with the highest combined point total won.
About fifteen years ago, Wally Goodwin graciously allowed me to make copies of all of the records of the team's scores and results from the various matches and tournaments during my freshman (1970) and sophomore (1971) years. I have used those records to refresh my memory and to make sure that I get the details right.
I admit to being very proud of my sophomore (1971) season. That year, I won all eleven of my individual dual matches. (Note: I have excluded the alumni clambake held after the season ends.) I won seven of those matches by 6 - 0, three by 5 - 1, and one by 4 - 2, for a total point differential of 61 to 5. When we beat USC, it ended their years-long streak of something like 60 consecutive dual match wins.
I also finished in the top ten individually in three of the four tournaments that preceded the 1971 NCAA Championship(Fresno Classic, tied for 8th; U.S. Intercollegiate Invitational, tied for 8th; Pac 8 Championship, tied for 9th). After two rounds, we led the Pac 8 and I was tied for individual lead, but the team slipped to 3rd and I fell back to a 9th place tie. Our team finished 8th in the NCAA Tournament. After two rounds, we had been tied for 4th with eventual Champion Texas (Ben Crenshaw, Tom Kite, and friends).
The "bio" for me on the website mentions my scoring average for 1971. I carefully double-checked the computations to make sure that the scoring average information is accurate. The numbers show the following: In 1971, Tom Watson's scoring average was 72.9 for 30 rounds; mine was 74.6 for 28 rounds; Gary Vanier's was 76.0 for 28 rounds; Pete Harpster's was 76.0 for 26 rounds; and Jim Dwulet's was 76.2 for 14 rounds. (As noted above, I did not count the alumni get-together as an actual competitive round, as I do not believe any of us considered it to be such. If counted, it would raise my scoring average to 74.8.) These scoring averages, and all of our scores from that year, can be confirmed from the 1971 results in the team "book", pages 250 to 270.
Something that the numbers cannot show is what a special treat it was to be part of Tom Watson's team. He had not yet perfected his game, but he was still scary good. The golfing greatness lurking inside him, just waiting to break out, was palpable. He always treated me well, but I know that my game puzzled him, as he was such a long hitter and I was one of the shortest hitters ever to play college golf. When we played together, my good drives seemed to be a full sand wedge short of the bombs that he routinely hit.
A good insight into Tom's character involves my youngest brother Joe. In about 1975 or 1976, at age 14 or 15, Joe finagled a job at the driving range during the Phoenix Open. When Joe said hello to Tom on the range (they had played whiffle ball together in my parents' backyard when Joe was 9), Tom could have been merely polite. Instead, to Joe's delight, Tom took Joe under his wing and introduced him to a whole slew of his fellow touring pros. It was a wonderful gesture that both Joe and I greatly appreciated.
Our 1971 team had some other very good players and fascinating individuals. Gary Vanier was an obviously excellent golfer. In addition, his blunt and uniquely phrased observations added humor and levity to the team chemistry. Jim Dwulet, who was a big part of that team, including the five man NCAA Championship squad, had the best golf swing I have ever seen. If Jim's putter had behaved, he could have beaten just about anyone I ever saw. He was also as charismatic and entertaining as anyone could hope to be. If Jim Dwulet cannot charm you, then you do not have a pulse. Pete Harpster was the consistent rock of the team, who could always be counted on for a solid performance.
So many other golfers were important members of that 1971 team. Freshman Dennis Conrad played extensively and had several excellent rounds. He was our lowest individual finisher at the Western Intercollegiate at Pasatiempo, one shot lower than Tom. Clem Richardson, Jeff Heiser and Sandy McCall contributed numerous solid tournament and dual match rounds. Denny Colvin, Vic Benson, Ed Grasty, Peter Fox and Steve Ross played in varsity matches. Denny Colvin was just a year away from coming into his own, with outstanding seasons the next two years. And of course there was the one golfer who had my number, who seemed to beat me every time we played together (which was often), Visalia's own Jim Eddy.
Ah, those were the days.